Kimpton Hotels & Restaurants Launches Room 301: A Social Experiment
Get great content like this right in your inbox.
Subscribe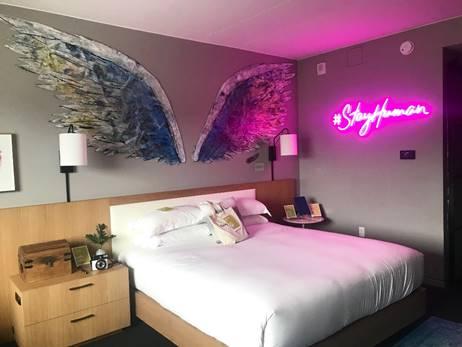 Today, Kimpton Hotels + Restaurants launches a first-of-its-kind social experiment, titled "Room 301," which will run for three months at the Kimpton Everly Hotel in Los Angeles, with additional activations at select Kimpton hotels across the country. Room 301 reflects Kimpton's belief that hearfelt human connections make peoples' lives better and the idea that commonalities and connections exist between all people – no matter their background or life story. Room 301 seeks to uncover the intersections and variances of the human experience.
Guests who choose to book the Room 301 experience will engage in a variety of in-room activities during their stay. Each element is thoughtfully designed to explore what makes people uniquely human. We're curious about whether complete strangers can share meaningful connections, even though their stories only intersect in this shared experience of the same space at different times. At the conclusion of the three-month run, Kimpton will assess and share the results of the experiment, with the goal of sparking more conversations about the importance of heartfelt human connection in today's fast-paced and often divisive world.
"Room 301 is an exciting extension of Kimpton's overarching Stay Human brand campaign. The campaign is grounded in the idea that in our world of rapid innovation and technology, we're actually craving more authentic connection, more personal experiences, more surprises – in short – more humanity," says Kathleen Reidenbach, Chief Commercial Officer at Kimpton Hotels & Restaurants. "With Room 301 we'll get to know the individuals who stay in this room – their experiences, aspirations and values. We hope to have some interesting insights that can inspire the way we continue to build community at our hotels and restaurants."
Guests of Room 301 will enjoy the personal experiences Kimpton is known for, while having the opportunity to explore a variety of activities and prompts unique to the room, designed to spark creativity and encourage self-reflection. All in-room elements are interactive and inspire guests to both relate to others and leave their own mark, without revealing the identities of any guests. The room also features an exclusive art collaboration with artist Colette Miller of the Global Angel Wings Project and each guest will receive a welcome kit of up to $200 in value, featuring gifts hand-selected by the Kimpton team.
Room 301 is available to book between September 6 and November 30 at 15 percent off the best flexible rate. For each guest that books Room 301, Kimpton will make a $10 donation to the guest's choice of either The Trevor Project or No Kid Hungry, two of Kimpton's non-profit partners. Guests can sign up to participate in Room 301 by sending an email to [email protected]. They will then have an opportunity to check Room 301 availability, sign a waiver, and receive more information about the experience. The spirit of Room 301 will also be brought to life through activations at a number of Kimptons across the country from the Kimpton Aertson Hotel in Nashville to the Kimpton Hotel Allegro in Chicago and the Kimpton Hotel Palomar Philadelphia. Check out this Room 301 video for a sneak peek of the room and visit KimptonRoom301.com to learn more!
Room 301 Regional Extensions in Kimpton Hotels Across the U.S:
 
Kimpton Hotel Monaco Pittsburgh

 

and

 

Kimpton Hotel Palomar Philadelphia
Postcard Writing Stations: Long before the days of social media, vacationing friends and family would send a hand-written postcard to tell loved ones about their travels. We're aiming to bring that nostalgia back through our postcard writing stations at The Kimpton Hotel Monaco Pittsburgh and the Kimpton Hotel Palomar Philadelphia. The stations – which debuted last summer in Pittsburgh and expanded this to Philly this summer – are outfitted with three unique postcard options designed by local artists, using the beautiful details of the hotel as their muse. Guests are invited to pick out their favorite and either fill it out on the spot to be mailed (free of charge) or take it with them as a travel memento.
Kimpton Hotel Palomar Philadelphia – Room 6o2: Launching in October, Room 6o2 will plunge guests into a lush green space using live plants, and will offer guests a welcome retreat from dropping temperatures outside. Aside from a beautiful display of hanging orchids over the soaking tub, the hotel will be adding a lot of fun elements to immerse the guest in the experience. According to Kevin Maloney of Hoffman Design, a certified instructor of the Economics of Biophilic Design (granted by Green Plants for Green Buildings), case studies have demonstrated the following incredible statistics with regards to human interaction with nature and nature scenes, including:
Pulse rates lowered on average 6%

Stress hormone release lowered by 15%

Lower blood pressure

Parasympathetic (rest/relax side of the involuntary nervous system) activity increased by 56%
Kimpton RiverPlace Hotel (Portland OR)
Miss You Mondays: Kimpton RiverPlace Hotel, set on Portland's waterfront, is all about taking a step back, slowing down, and reconnecting. Every Monday during social hour, guests can find a personalized card station to make their own postcards for friends and family back home, or simply drop a line to someone on their mind. Pass it off to the front desk, and they'll take care of the postage and get each card in the mail.
Flight School Fridays: Who didn't love making paper planes during recess? Every Friday during social hour, Kimpton RiverPlace Hotel sets out decorative paper and instructional folding books, encouraging guests to make their own and see whose can fly the furthest. Kids and adults welcome – winner gets a prize.
Origami Wednesday: The paper fun continues! Every Wednesday, RiverPlace puts out a 'know how to fold 'em' display with beautiful origami papers and directions on how to fold cranes and various shapes. Origami is back on the rise, as it's shown to have meditative qualities and creates a beautiful keepsake guests can take home or leave as a memento for others to enjoy. It may seem like a solo endeavor, but the social hour activity a great way to gather people around a table and share a moment of zen in the lobby.
Kimpton Taconic Hotel (Manchester, VT)
Kimpton Taconic is going to have a community puzzle on the table in the library. Guests are encouraged to write a quote about why they love Manchester (or an experience, a hidden gem, etc) on the back of the puzzle piece. The puzzle will be constructed and deconstructed.
Kimpton Brice Hotel (Savannah, GA)
Kimpton Brice Hotel will offer an 'inspiration suite (or room)' where guests are invited to share their trip in a few ways:
A map in the room and mark where you are from

Inspirational coffee table books

Potential to partner with a local furniture designer to put a special thinking chair
In tandem, the hotel will put an inspiration chest in the on-site garden that invites those guests to write down what they found inspiring from their trip – the hotel will then showcase these inspiring moments on social media.
Kimpton Aertson Hotel (Nashville, TN)
Kimpton Aertson is hosting a Living Room activation where guests leave a note of a song that they fell in love with in Nashville. At the end of the month, the hotel will create a playlist that was essentially built by its guests and push out on social channels.
Kimpton Schofield Hotel (Cleveland)
Leave Your Mark Moments
The lightboxes in the guest rooms provides the opportunity for guests to leave spontaneous messages to each other as well as for the hotel team to personalize each guests' stay
A pin board of a world map across from the reception desk provides visitors with the opportunity to pin their home town.
A Good News Wall is located by the elevators so that staff and visitors can pin articles/clippings from newspapers and magazines about good news, or just funny stories.
Kimpton Hotel Allegro (Chicago)
Kimpton Hotel Allegro launched a letter writing station in the lobby. Guests can choose from a variety of postcards with images of the hotel to send to family and friends; Guests just drop them in the classic mailbox at the station and the hotel will send it off complete with postage