HTNG Announces Its First Hackathon Winner
Get great content like this right in your inbox.
Subscribe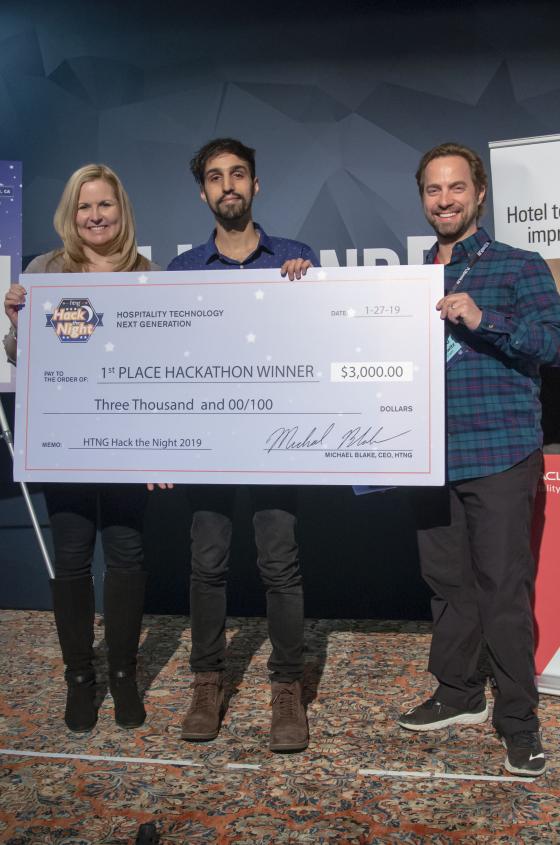 HTNG's first hackathon, Hack the Night, took place on January 25-27 at the Plug and Play Technology Center in Sunnyvale, CA. This event brought together more than 50 hackers and fostered collaborative participation from 13 teams.
Hack the Night challenged participants to take guest data and create an innovative tool that leverages this information and ultimately benefits the company's staff, guests, or both.
Seena Zandipour created an internal dashboard for concierges and front of house staff which gathers data from local event organizers, and then creates augmented and personalized recommendations for guests based on the rich guest profile that was available through Oracle Hospitality's OPERA Cloud platform. In addition to the dashboard, the concierge can provide a physical copy of recommendations in a leaflet that customers can easily carry.
"I travel a lot and like to go to music festivals, but what makes me uncomfortable is that I never know what the scene is going to be like," Zandipour says. "That's definitely what I tapped into as inspiration for my idea."
Seetha Ramakrishna Madamsetti and Haoyand Li won second place at Hack the Night. Their solution alerts hotel staff to begin preparation for guests' arrivals based on their proximity to the property. Third place winners, Luyanda Mdanda and Pasquale Ranieri, created a marketing segmentation tool which monitors purchases to create future spending recommendations.
Title Sponsor, Oracle Hospitality, and Diamond Sponsors, Hapi and Poynt, provided their APIs as well as mentors for participants to work with.
Commenting on the success of solutions from the event, Mike Ferrier, Vice President of Oracle Hospitality states, "It was amazing to see the teams bring creative ideas to life over a weekend! Using technology to anticipate guest needs and provide personalized, memorable, and sharable experiences are primary goals of the contemporary hotelier. Several of the participants' ideas demonstrated how new technologies such as AI and data science could be used to predict and fulfill guest needs based on guest preferences, past stay data and guest buying behavior."