Ted's Montana Grill Hires New Corporate Chef
Get great content like this right in your inbox.
Subscribe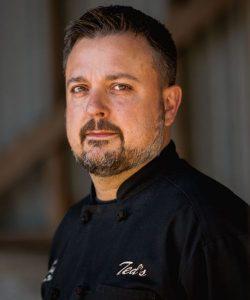 Kirk Biondi joins Ted's Montana Grill as Corporate Chef, bringing vast experience in research and development and food cost and waste analysis. Biondi also excels at menu innovation and is already hard at work creating and testing potential new menu items. Prior to joining Ted's Montana Grill, he served as corporate chef at several restaurant concepts, including Tin Drum and Maddio's Pizza.
Food Waste Maven
"Chef Kirk brings an extremely high level of creativity and analysis to the position and we have already put his skills to work refreshing menu items and scrutinizing food waste," said George McKerrow, co-founder and CEO of Ted's Montana Grill. "I don't want to give too much away, but Kirk is tweaking our made-from-scratch veggie burger to ensure it is 100% vegan and looking at ways to reduce our already low 1.62% annual food waste to under 1%."
Biondi will also work with each Ted's Montana Grill location to maximize its partnership with area farmers and Greener Fields Together, making the most of local and seasonal ingredients in every region. Utilizing local produce and preparing dishes in small batches reduces the impact on the environment and ensures guests are enjoying food made fresh in-house, within minutes of preparation, McKerrow adds.
Ted's Montana Grill was co-founded in 2002 by Ted Turner, the media entrepreneur, environmentalist and philanthropist, and award-winning restaurateur McKerrow. Headquartered in Atlanta, Ted's operates 43 locations in 16 states.