How Austin Hotel Uses Tech to Elevate the Guest Experience
Get great content like this right in your inbox.
Subscribe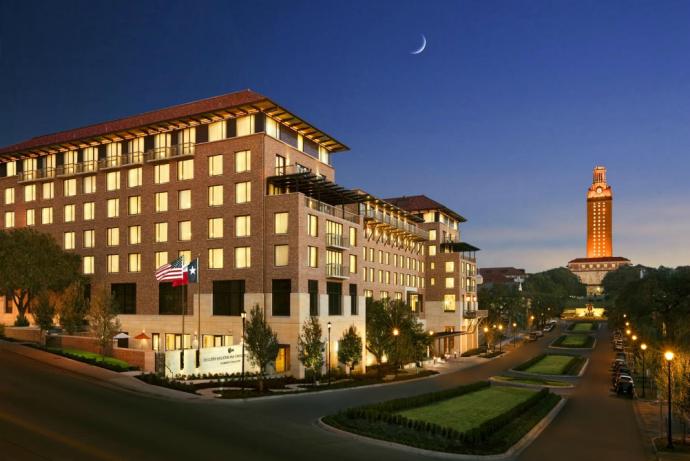 The AT&T Hotel and Conference Center in Austin, Texas, is a meeting destination for hundreds of local, national and international companies. It offers 83,000 square feet of high-tech meeting facilities and 297 guestrooms on site, with access to additional rooms through a collaborative partnership with surrounding hotels in Austin's high-tech Innovation District. The hotel understands how to use technology to elevate the guest experience and continuously improve and retain high TripAdvisor scores.
Guestware Helps Elevate Guest Satisfaction
AT&T Hotel and Conference Center has implemented several programs through Guestware, a cloud-based solution for hotels and resorts that optimizes rapid response to guest service requests and maintenance processes. Guestware helps the property obtain exemplary guest survey scores. AT&T Hotel and Conference Center's TripAdvisor scores are currently 4.5 out of 5.0, based on more than 800 reviews.
"Austin is the tech capital of the Southwest, and many of our corporate groups and leisure guests are technology-savvy travelers. They expect a seamless and personalized experience. Guestware is an essential tool that helps us deliver the high-quality stay our guests expect," said AT&T Hotel and Conference Center director of sales and marketing Alison Berg.
"Our property is focused on providing the best guest experience possible. We use Guestware to integrate the front desk, housekeeping, engineering and the banquet floor on one rapid-response system that quickly fulfills guest and maintenance requests," said Wes Flower, AT&T Hotel and Conference Center front office manager.
"Guests can request service from their phone or from the guestroom's Intelity-powered iPads. When a guest call reaches the front desk, staff enter the request in Guestware. The system then creates a request ticket and assigns it to housekeeping, engineering or another appropriate department," Flower continued. "In addition, guestroom Intelity iPads automatically interface with Guestware. For example, if a guest requests towels on their iPad, the message goes to the appropriate housekeeper's iPhone and they can easily fulfill the request."
A large part of AT&T Hotel and Conference Center's operation focuses on guest recognition. "Our property management system interfaces with Guestware, which records all past guest requests and preferences," said Flower. "We review our arrival list daily through Guestware, which records past guest requests, to anticipate special needs, like a 'feather-free' room before arrival. Guests are surprised when we show this level of attention to their stay. I think this kind of recognition helps drive our high customer satisfaction scores."
The property's engineering and housekeeping departments also rely on Guestware to track scheduled maintenance. "Our housekeepers are in guestrooms every day. It is easy for us to report any maintenance issues," said Lovie Levels, housekeeping director. "Maintenance issues are logged in Guestware so engineering can be proactive and resolve them before the next check-in. We also track scheduled tasks like deep cleaning and mattress rotation. Mattresses are important to guest comfort. This kind of attention to detail is a big factor in demonstrating how we care for our guests." Levels noted that Guestware's "late checkout request report" helps her optimize housekeeper staffing schedules. Engineering also uses Guestware to schedule room and equipment maintenance which helps create a flawless guest experience.
AT&T Hotel and Conference Center uses Guestware's "top 10 guest issues" list to review operations and identify and resolve recurring service items. "Before our recent renovation, we analyzed the top guest requests to improve the comfort and functionality in our guest rooms," said Flower.
Flower also reviews each day's new tickets. "As front office manager, I review any reported guest concerns. Guestware helps us put a dollar figure on any incidents to track their impact on revenue and help us find ways to operate more effectively," he explained. "We also run a 'recurring incident report' to clarify which areas have repeating issues for process improvement."
"We also use Guestware to improve guest experience in the conference center," Berg added. "Our 83,000 square feet of event space includes 53 rooms, a 300-seat amphitheater, two ballrooms, classrooms and outdoor event space. We are focused on providing successful meetings and events. We continuously use Guestware to communicate with all departments to ensure our meeting and event space delivers a welcoming and productive environment."
The AT&T Hotel and Conference Center is owned by The University of Texas and is located in downtown Austin, central to the city's museums, restaurants, festivals and nightlife. The property's expansion will open in early 2018 and increase its meeting and event space by 30,000 square feet. The new facilities include the 15,000-square-foot Zlotnik Family Ballroom, 5,000 square feet of pre-function space, and more.